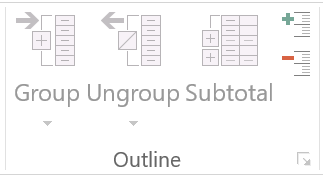 You try to add groupings to selected rows or columns in Excel but it's not working? Maybe even the corresponding buttons are grayed out on the data ribbon?
There are several possibilities:
Have you selected several worksheets at the same time? In such case, you can't add groupings. You can only do it sheet by sheet.
Are you inside an Excel cell? If yes, you have to leave the cell first in order to add groupings.
The worksheet is protected? In that case you'd usually receive an error message.
There also might be another reason. Within the Excel options, you can choose if you want to display groups. So maybe, the grouping works, but is just not shown?
Click on "File" and the "Options".
Navigate to "Advanced" on the right-hand side and scroll down.
Make sure the box "Show outline symbols if an outline is applied".
Confirm by clicking on "OK".