[template id="1020"]
Take a look at this message:
[template id="1020"][template id="1020"]

 [template id="1020"]
 You won't see it again.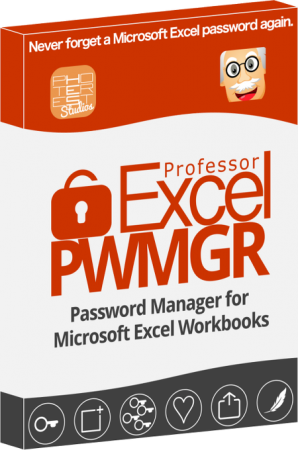 Professor Excel Password Manager
Save your Excel passwords where you need them: In Excel. No more guessing - simply open your Excel workbooks with the password manager.
You got a new version of your file? Select from your saved passwords.
Yes, it can be that simple.
[ac-button size="large" color="red" style ="flat" url="http://professor-excel.com/download-pwmgr/"]Download[/ac-button]
[template id="1020"]
Features

Save your Excel passwords
Only enter each password once: The first time you open a password protected Excel workbook.
No need to type every password
Got a new version of your file? Easily select an existing password!

Pin your favorite workbooks
Often accessing the same file? Mark it as your favorite files and easily access it.

Open at start up
If you like, the Password Manager opens when you start Excel. That way, you save a lot of time.

Manage your saved passwords
Export, watch or delete your saved passwords easily.

Lightweight, no sign-up, free trial
Try the Password Manager for free now. It's a lightweight Excel add-in, no installation or sign-up required.
[template id="1020"]
This is how it works:
1. Open your files with Professor Excel PWMGR.
The PWMGR window opens at start up. Alternatively click on the new button on the home ribbon.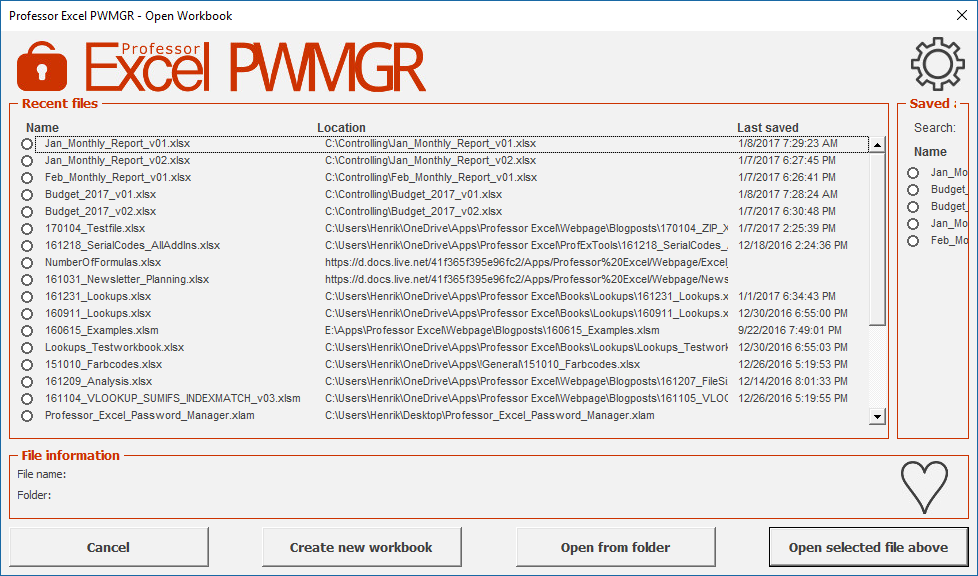 2. Enter your password once.
From now on you don't have to type it again. It's saved.
You got a new version of your file? Comfortably select the password from existing passwords.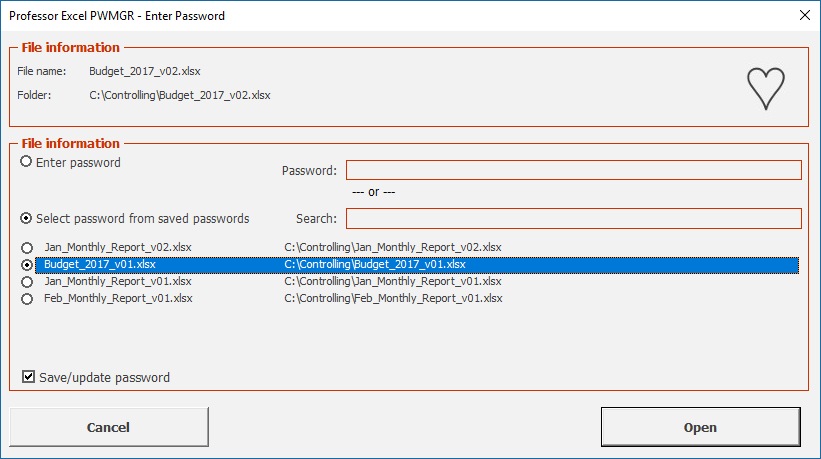 [template id="1020"]
Your Advantages

Remember all passwords
Never forget any Excel password again!
No more trial and error when opening workbooks.


Safely stored
All passwords are saved locally.
No transfer over the internet. 
Futhermore, through the encryption they are not readable.

All power to you
You are in control: Manage, delete, export or look up your saved passwords.
Try it now for free! No sign-up, no installation (just activate it). What are you waiting for?
[ac-button size="large" color="red" style ="flat" url="http://professor-excel.com/download-pwmgr/"]Download[/ac-button]