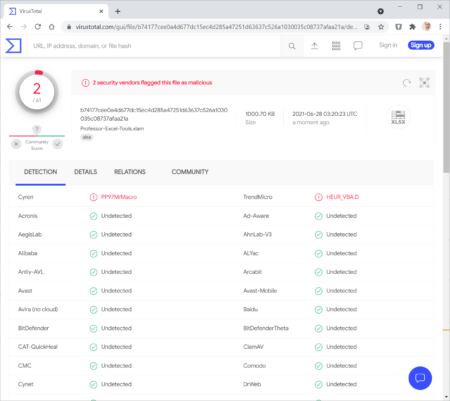 Summary: No, there is no virus in Professor Excel Tools.
Professor Excel Tools offers a lot of features, some of them require some procedures that might be mistaken to be harmful.
Examples:
The sharing features need to save a temporary file on the hard drive. After sharing, the temporary file is deleted.
Or the update function: When you click on "update", it downloads the new version, installs it and deletes the old version. Some virus scanner mistake that for a "Trojan horse".
To make it clear: There is no virus in Professor Excel Tools. We have no interest in harming you or your computer in any way. We earn money by selling one-of licenses. That's it.
The website "VirusTotal" can check files and provide a summary. For Professor Excel Tools, 2 out of 61 virus scanning software might detect a threat. Or in other words: 59 out of 61 virus scanners don't think Professor Excel Tools is harmful.
Here is the link to the report: https://www.virustotal.com/gui/file/b74177cee0a4d677dc15ec4d285a47251d63637c526a1030035c08737afaa21a/detection
And unfortunately, also "Palo Alto Networks" blocks our file. If you use Palo Alto Networks, only your local administrators can approve Professor Excel Tools.