Thank you. You have just downloaded a high quality add-in for Excel.
Professor Excel Tools should start downloading in a few seconds.
Please click here if the download doesn't start automatically.

If it still doesn't work, try to open this page in a different browser (e.g. Chrome, Firefox). In some cases, the download doesn't work with Microsoft Internet Explorer or Edge.

In case it's still not working, please try to download the .zip file by clicking here.
Next steps:
Please run the installer which you just download.
If you run into problems, please check back here or the support page.
Decompression error while installing Professor Excel Tools
Some users have reported a "Decompression Error" while installing Professor Excel Tools.
If such error occurs to you, please use the following way to install Professor Excel Tools (the add-in works exactly the same way as using the installer).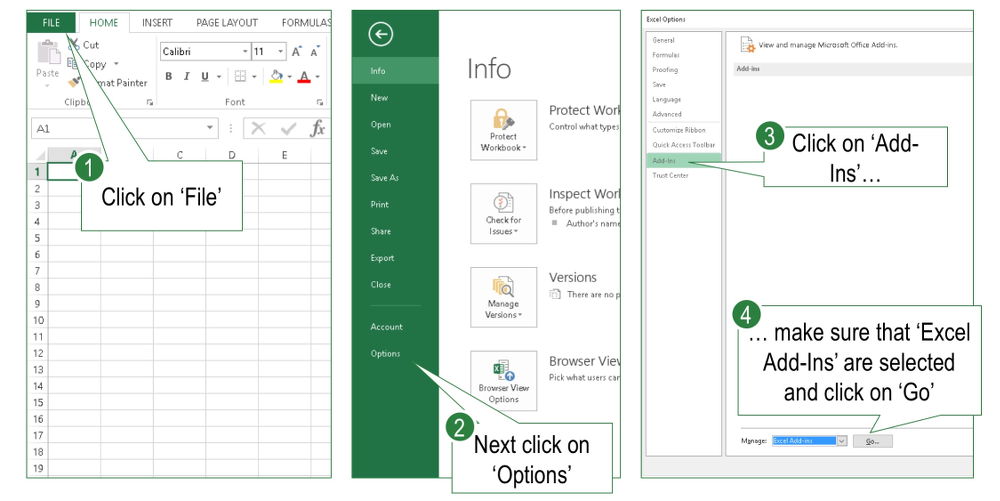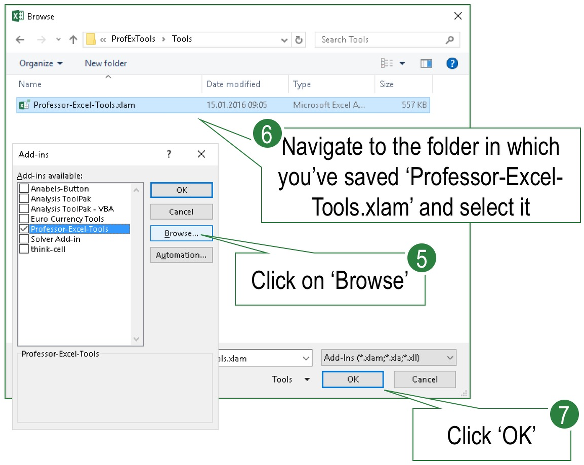 Everytime I open Excel, it says Professor Excel Add-In can't be found
Have you deleted or moved the file Professor-Excel-Tools.xlam?
You should do two steps:
Remove the previous link to the add-in. Therefore open Excel, click on 'File' –> 'Options' –> 'Add-Ins'. Make sure that 'Excel Add-Ins' are selected and click on 'Go'. You'll see a list of add-ins. Click on 'Professor Excel Tools'. You'll be asked if you want to remove the add-in. Click 'Yes'.
Add 'Professor Excel Tools' again.  You can redownload it from here: https://professor-excel.com/tools/Professor-Excel-Tools.xlam. Then follow the steps shown in the Quick Install Guide (see download link below).
The ribbon of Professor Excel Tools doesn't appear
You've once seen the ribbon of Professor Excel and after reopening Excel it's gone?
Don't just double-click on the .xlam file to open it. Use a proper installation, for example with the downloaded setup file (.exe-file)

or

activate it from with Excel if you have the .xlam-file.
Make sure that Excel is closed during the installation with the setup-file (.exe)
You still run into problems (e.g. add-in gone with the next start of Excel)? Locate the file on your drive, right click on it and click on "Properties". In the lower section of the "General" tab, make sure the "Unblock" tickmark is set as in the screenshot.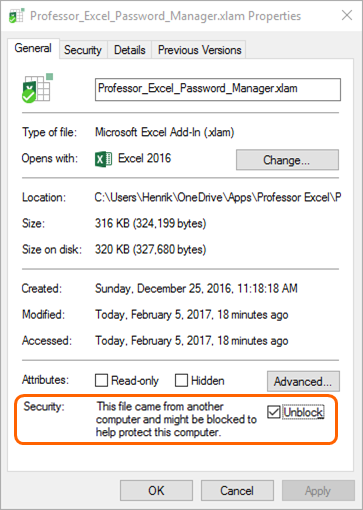 It still doesn't work? Please check these methods: https://professor-excel.com/prevent-excel-add-in-disappear/ 
If nothing happens when you press any button of Professor Excel Tools check the following options:
A workbook needs to be open
Are add-ins allowed? Therefore Click on 'File' –> 'Options' –> 'Trust Center'. Click on 'Add-ins' on the left hand side. Make sure that none of the three options is ticket. Click 'OK' and restart Excel.

How to uninstall Professor Excel Tools
You want to uninstall "Professor Excel Tools" or any other of our add-ins? First of all: Sorry to see you leave. If you have any comments or feedback, we appreciate a short message to support@professor-excel.com. Thank you!
Uninstalling Professor Excel Tools (or any other of our add-ins is quite simple).
Close Microsoft Excel.
Go to "Add or remove programs" in Windows. The fastest way is to press the Windows key and start typing "add or remove programs" until the regarding entry comes up. Alternatively type "Apps & features".
Now you should see the "Apps & features" window of Windows. Scroll down to "Professor Excel Tools" and click on it.
Click on uninstall.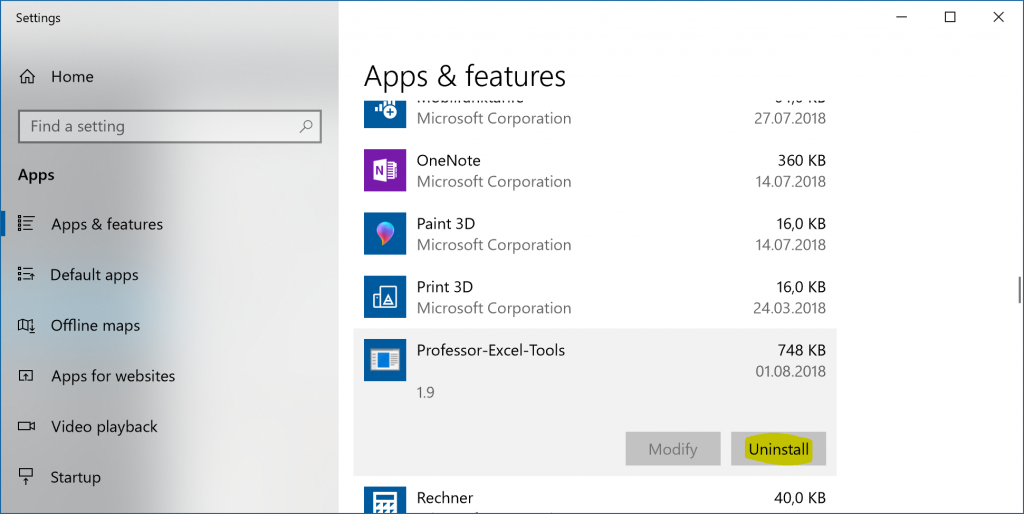 My Virus Scanner Detects a Threat. Is "Professor Excel Tools" Dangerous?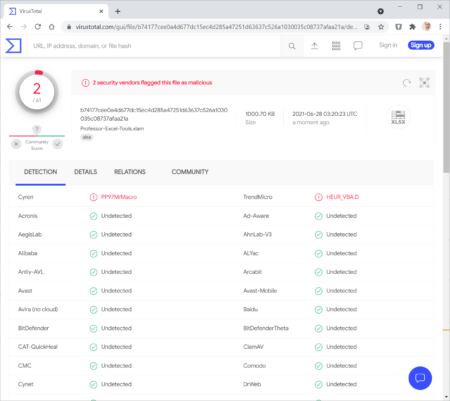 Summary: No, there is no virus in Professor Excel Tools.
Professor Excel Tools offers a lot of features, some of them require some procedures that might be mistaken to be harmful.
Examples:
The sharing features need to save a temporary file on the hard drive. After sharing, the temporary file is deleted.
Or the update function: When you click on "update", it downloads the new version, installs it and deletes the old version. Some virus scanner mistake that for a "Trojan horse".
To make it clear: There is no virus in Professor Excel Tools. We have no interest in harming you or your computer in any way. We earn money by selling one-of licenses. That's it.
The website "VirusTotal" can check files and provide a summary. For Professor Excel Tools, 2 out of 61 virus scanning software might detect a threat. Or in other words: 59 out of 61 virus scanners don't think Professor Excel Tools is harmful.
Here is the link to the report: https://www.virustotal.com/gui/file/b74177cee0a4d677dc15ec4d285a47251d63637c526a1030035c08737afaa21a/detection
And unfortunately, also "Palo Alto Networks" blocks our file. If you use Palo Alto Networks, only your local administrators can approve Professor Excel Tools.
Ressources:
Please visit our support page with a FAQ as well as a detailed handbook and contact form.