Excel Newsletter
Subscribe to the popular Professor Excel Newsletter
Boost your Excel knowledge and become a real Excel expert. What do you have to do? Just sign up for our free newsletter. Here are the facts:
1-2x per month.
No spam. Promised. We also hate spam.
Each newsletter has 2-3 Excel tips, tricks and tutorials.
Usually it comes with one of our popular Excel facts.
It's – of course – free!
For course, you can easily unsubscribe any time. There is a link in each e-mail. So why don't you give it a try?
Your gift: The big keyboard shortcut guide! Free.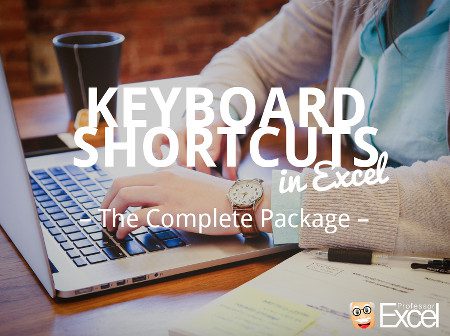 We don't just provide free knowledge with our newsletter. No, there is much more: We'd like to give you a welcome gift: Our big package about keyboard shortcuts in Excel. Of course: It's free.
Download our big 45 pages keyboard shotcuts guide!
Get to know any keyboard shortcut you want. With 2 simple tricks.
Learn 15 most important keyboard shortcuts in detail.
Stick the top 33 keyboard shortcuts under your screen with a handy print out.
That's not enough? Check out the long lists of keyboard shortcuts.
The best: It's free!
After you've confirmed your e-mail address, you will get the download link.
Sign up for the Excel newsletter and get the welcome gift
Boost your Excel skills!
Join thousands of Excel users & subscribe to the newsletter!
The best Excel tips, tricks and tutorials.
1x per month.
No spam. Promised.
Welcome gift: Save a lot of time with my huge keyboard shortcut package.
If the sign-up form doesn't work, please use this page.