There are many worksheets in your workbook, which are old but you are afraid to delete them? Or you just don't want people to find your sheet? In this article we learn how to hide worksheets in Excel and how to make them 'very hidden'.
How to hide worksheets in Excel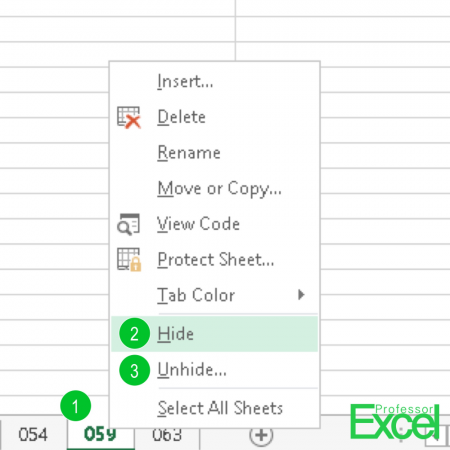 Hiding worksheets in Excel is quite easy: Right click on the sheet name (number 1 in the picture on the right hand side) and then click on Hide (number 2). Alternatively, press Alt –> o –> h –> h on a Windows computer.
You can also do this with many sheets at the same time. Therefore, select all the worksheets you want to hide by pressing Ctrl or Shift when clicking on each sheet name. Next, right click on one of the selected worksheet names and click on 'Hide' as described above.
Unhiding sheets works the same way by right clicking on any sheet name (number 1), clicking on Unhide (number 3). A new window opens then in which you can select which sheet you want to unhide. The keyboard shortcut to unhide worksheets on Windows computers is Alt –> o –> h –> u. For more information about how to unhide worksheets, please refer to this article.
But please keep in mind: Hidden worksheets are still there and everybody can unhide them. There is no hint that there are hidden worksheets in a workbook, unless you right-click on a worksheet and click on unhide.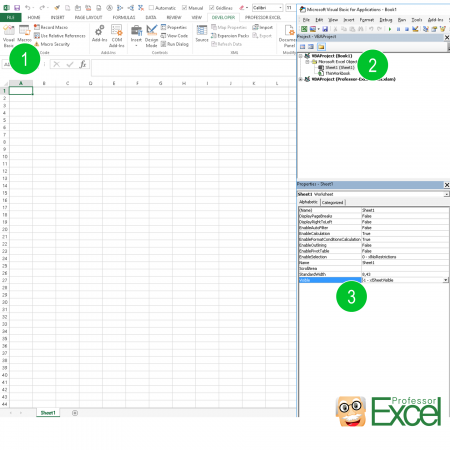 Excel offers another option for hiding sheets. If you don't want your sheets to be easily unhidden, you can change the visibility to "very hidden". This can only be done within the VBA editor.
Follow these steps for set the worksheet to very hidden:
Click on "Visual Basic" within the Developer ribbon for opening the VBA editor.

Select the worksheet within the object browser on the left hand side.

Change the visibility in the properties window below to "very hidden".
For easily unhiding very hidden worksheets please take a look at this article.
Conveniently hide and unhide worksheets with Professor Excel Tools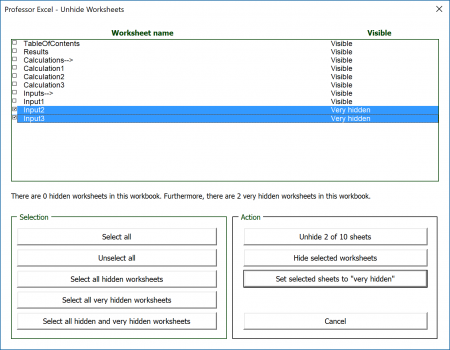 The Excel add-in "Professor Excel Tools" offers a worksheet manager. You can easily select all the worksheets you want to either
Hide,

Unhide,

or set to very hidden.
Download and try it for free now. Just click on this link and the download starts immediately.
---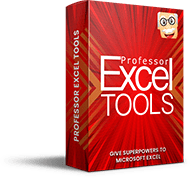 This function is included in our Excel Add-In 'Professor Excel Tools'
(No sign-up, download starts directly)
More than 35,000 users can't be wrong.
---