Often, after working with Excel, you want to present your results in PowerPoint. The problem, especially when working internationally with different language settings involved: The proofing language often seems to have its own life. It's often troublesome to continuously tell PowerPoint which language to use. Here are three simple (and two of them very fast) methods to refresh the proofing language of the entire PowerPoint presentation.
Method 1: Change proofing language manually
As usual, the manual method first. If you only have to do it for 2-3 slides, it might even be faster (assuming you don't like to use VBA or a PowerPoint add-in).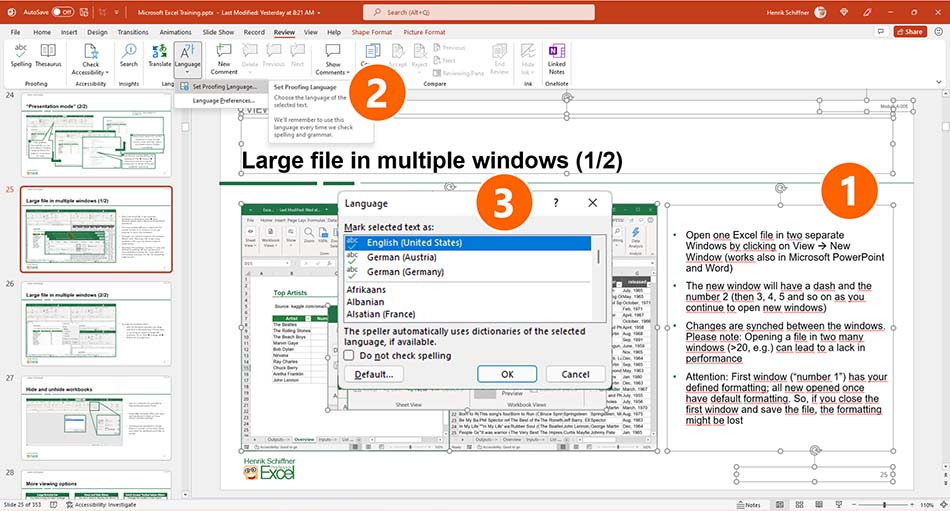 Select all shapes on a slides (press Ctrl + A on the keyboard).
Go to the review ribbon and click on "Set proofing language".
Select your target language and click on OK.
Method 2: Use a free PowerPoint Add-In to update the proofing language
Especially when copying and pasting often, working with different languages and slide masters, you might want to use a small PowerPoint add-in. I have prepared a small and lightweight add-in "LanguaX" which helps you with setting the proofing language.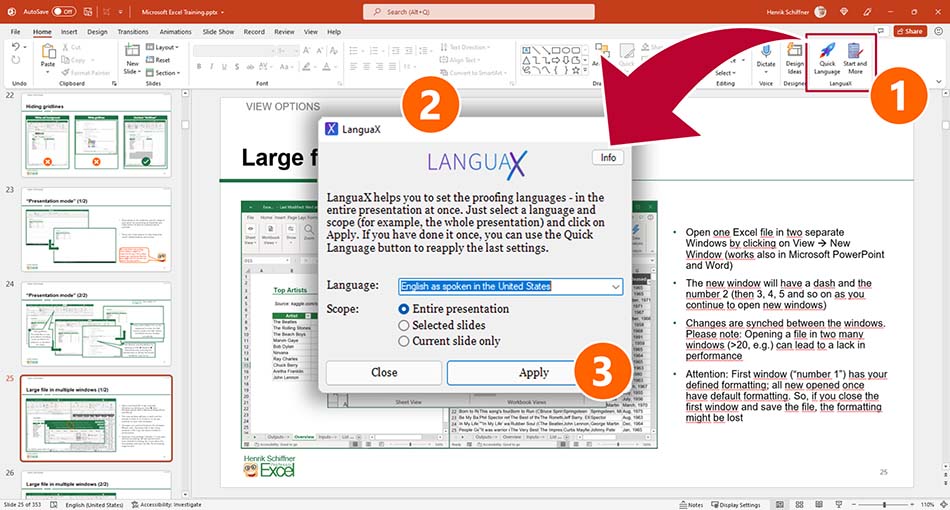 Close PowerPoint, download and install the add-in LanguaX (of course you only have to do this once).
Now, you have two new buttons on the Home ribbon: "Quick Language" and "Start and More". Click on "Start and More" when you initially run the add-in.
Select your target language and scope.
Click on Apply.
That's it. From now on, you can just use the Quick Language button. It will apply your last settings again.
Sounds simple and convenient, right? The best: It's entirely free. Try it now!
Click here to start the download or click here to learn more about the add-in.
Method 3: Use a VBA Macro
The third method for changing the proofing language for all PowerPoint slides at once uses a short VBA macro. Insert a new module into your presentation (here is how to do this in Excel – it's exactly the same in PowerPoint), and copy and paste the following code. Then, press the start button to run the macro.
Public Sub changeProofingLanguage()
    Dim i As Integer, j As Integer, totalCount As Double
    totalCount = 0
    For i = 1 To ActivePresentation.Slides.Count
        For j = 1 To ActivePresentation.Slides(i).Shapes.Count
            If ActivePresentation.Slides(i).Shapes(j).HasTextFrame Then
                ActivePresentation.Slides(i).Shapes(j).TextFrame.TextRange.LanguageID = msoLanguageIDEnglishUS
                totalCount = totalCount + 1
            End If
        Next
    Next
    MsgBox "Done. Language updated on " & totalCount & " items.", vbInformation, "Done."
End Sub
As you can see, the language will be set to English (US) by the LanguageID "msoLanguageIDEnglishUS". You can simply replace msoLanguageIDEnglishUS by one of the following options:
| Language | LanguageID |
| --- | --- |
| Afrikaans | msoLanguageIDAfrikaans |
| Albanian | msoLanguageIDAlbanian |
| Amharic | msoLanguageIDAmharic |
| Arabic | msoLanguageIDArabic |
| Arabic as spoken in Algeria | msoLanguageIDArabicAlgeria |
| Arabic as spoken in Bahrain | msoLanguageIDArabicBahrain |
| Arabic as spoken in Egypt | msoLanguageIDArabicEgypt |
| Arabic as spoken in Iraq | msoLanguageIDArabicIraq |
| Arabic as spoken in Jordan | msoLanguageIDArabicJordan |
| Arabic as spoken in Kuwait | msoLanguageIDArabicKuwait |
| Arabic as spoken in Lebanon | msoLanguageIDArabicLebanon |
| Arabic as spoken in Libya | msoLanguageIDArabicLibya |
| Arabic as spoken in Morocco | msoLanguageIDArabicMorocco |
| Arabic as spoken in Oman | msoLanguageIDArabicOman |
| Arabic as spoken in Qatar | msoLanguageIDArabicQatar |
| Arabic as spoken in Syria | msoLanguageIDArabicSyria |
| Arabic as spoken in the United Arab Emirates | msoLanguageIDArabicUAE |
| Arabic as spoken in Tunisia | msoLanguageIDArabicTunisia |
| Arabic as spoken in Yemen | msoLanguageIDArabicYemen |
| Armenian | msoLanguageIDArmenian |
| Assamese | msoLanguageIDAssamese |
| Azeri-Cyrillic | msoLanguageIDAzeriCyrillic |
| Azeri-Latin | msoLanguageIDAzeriLatin |
| Basque (Basque) | msoLanguageIDBasque |
| Belarusian | msoLanguageIDByelorussian |
| Belgian Dutch | msoLanguageIDBelgianDutch |
| Belgian French | msoLanguageIDBelgianFrench |
| Bengali | msoLanguageIDBengali |
| Bokmol as spoken in Norway | msoLanguageIDNorwegianBokmol |
| Bosnian | msoLanguageIDBosnian |
| Brazilian Portuguese | msoLanguageIDBrazilianPortuguese |
| Bulgarian | msoLanguageIDBulgarian |
| Burmese | msoLanguageIDBurmese |
| Catalan | msoLanguageIDCatalan |
| Cherokee | msoLanguageIDCherokee |
| Chinese as spoken in Hong Kong SAR | msoLanguageIDChineseHongKongSAR |
| Chinese as spoken in Macao SAR | msoLanguageIDChineseMacaoSAR |
| Chinese as spoken in Singapore | msoLanguageIDChineseSingapore |
| Croatian | msoLanguageIDCroatian |
| Czech | msoLanguageIDCzech |
| Danish | msoLanguageIDDanish |
| Divehi | msoLanguageIDDivehi |
| Dutch | msoLanguageIDDutch |
| Dzongkha as spoken in Bhutan | msoLanguageIDDzongkhaBhutan |
| Edo | msoLanguageIDEdo |
| English as spoken in Australia | msoLanguageIDEnglishAUS |
| English as spoken in Belize | msoLanguageIDEnglishBelize |
| English as spoken in Canada | msoLanguageIDEnglishCanadian |
| English as spoken in Indonesia | msoLanguageIDEnglishIndonesia |
| English as spoken in Ireland | msoLanguageIDEnglishIreland |
| English as spoken in Jamaica | msoLanguageIDEnglishJamaica |
| English as spoken in New Zealand | msoLanguageIDEnglishNewZealand |
| English as spoken in South Africa | msoLanguageIDEnglishSouthAfrica |
| English as spoken in the Caribbean | msoLanguageIDEnglishCaribbean |
| English as spoken in the Philippines | msoLanguageIDEnglishPhilippines |
| English as spoken in the United Kingdom | msoLanguageIDEnglishUK |
| English as spoken in the United States | msoLanguageIDEnglishUS |
| English as spoken in Trinidad and Tobago | msoLanguageIDEnglishTrinidadTobago |
| English as spoken in Zimbabwe | msoLanguageIDEnglishZimbabwe |
| Estonian | msoLanguageIDEstonian |
| Faeroese | msoLanguageIDFaeroese |
| Farsi | msoLanguageIDFarsi |
| Filipina | msoLanguageIDFilipino |
| Finnish | msoLanguageIDFinnish |
| French | msoLanguageIDFrench |
| French as spoken in Cameroon | msoLanguageIDFrenchCameroon |
| French as spoken in Canada | msoLanguageIDFrenchCanadian |
| French as spoken in Cote d'Ivoire | msoLanguageIDFrenchCotedIvoire |
| French as spoken in French Reunion Island | msoLanguageIDFrenchReunion |
| French as spoken in Haiti | msoLanguageIDFrenchHaiti |
| French as spoken in Luxembourg | msoLanguageIDFrenchLuxembourg |
| French as spoken in Mali | msoLanguageIDFrenchMali |
| French as spoken in Monaco | msoLanguageIDFrenchMonaco |
| French as spoken in Morocco | msoLanguageIDFrenchMorocco |
| French as spoken in Senegal | msoLanguageIDFrenchSenegal |
| French as spoken in Switzerland | msoLanguageIDSwissFrench |
| French as spoken in the Netherlands | msoLanguageIDFrisianNetherlands |
| French as spoken in the West Indies | msoLanguageIDFrenchWestIndies |
| French as spoken in Zaire | msoLanguageIDFrenchZaire |
| Fulfulde | msoLanguageIDFulfulde |
| Gaelic as spoken in Ireland | msoLanguageIDGaelicIreland |
| Gaelic as spoken in Scotland | msoLanguageIDGaelicScotland |
| Galician | msoLanguageIDGalician |
| Georgian | msoLanguageIDGeorgian |
| German | msoLanguageIDGerman |
| German as spoken in Austria | msoLanguageIDGermanAustria |
| German as spoken in Liechtenstein | msoLanguageIDGermanLiechtenstein |
| German as spoken in Luxembourg | msoLanguageIDGermanLuxembourg |
| German as spoken in Switzerland | msoLanguageIDSwissGerman |
| Greek | msoLanguageIDGreek |
| Guarani | msoLanguageIDGuarani |
| Gujarati | msoLanguageIDGujarati |
| Hausa | msoLanguageIDHausa |
| Hawaiian | msoLanguageIDHawaiian |
| Hebrew | msoLanguageIDHebrew |
| Hindi | msoLanguageIDHindi |
| Hungarian | msoLanguageIDHungarian |
| Ibibio | msoLanguageIDIbibio |
| Icelandic | msoLanguageIDIcelandic |
| Igbo | msoLanguageIDIgbo |
| Indonesian | msoLanguageIDIndonesian |
| Inuktitut | msoLanguageIDInuktitut |
| Italian | msoLanguageIDItalian |
| Italian as spoken in Switzerland | msoLanguageIDSwissItalian |
| Japanese | msoLanguageIDJapanese |
| Kannada | msoLanguageIDKannada |
| Kanuri | msoLanguageIDKanuri |
| Kashmiri | msoLanguageIDKashmiri |
| Kashmiri in Devanagari script | msoLanguageIDKashmiriDevanagari |
| Kazakh | msoLanguageIDKazakh |
| Khmer | msoLanguageIDKhmer |
| Kirghiz | msoLanguageIDKirghiz |
| Konkani | msoLanguageIDKonkani |
| Korean | msoLanguageIDKorean |
| Kyrgyz | msoLanguageIDKyrgyz |
| Lao | msoLanguageIDLao |
| Latin | msoLanguageIDLatin |
| Latvian | msoLanguageIDLatvian |
| Lithuanian | msoLanguageIDLithuanian |
| Macedonian | msoLanguageIDMacedonian |
| Macedonian FYROM language | msoLanguageIDMacedonianFYROM |
| Malay as spoken in Brunei Darussalam | msoLanguageIDMalayBruneiDarussalam |
| Malayalam | msoLanguageIDMalayalam |
| Malaysian | msoLanguageIDMalaysian |
| Maltese | msoLanguageIDMaltese |
| Manipuri | msoLanguageIDManipuri |
| Maori | msoLanguageIDMaori |
| Marathi | msoLanguageIDMarathi |
| Mongolian | msoLanguageIDMongolian |
| Nepali | msoLanguageIDNepali |
| No language specified | msoLanguageIDNone |
| No proofing requested | msoLanguageIDNoProofing |
| Nynorsk as spoken in Norway | msoLanguageIDNorwegianNynorsk |
| Oriya | msoLanguageIDOriya |
| Oromo | msoLanguageIDOromo |
| Pashto | msoLanguageIDPashto |
| Polish | msoLanguageIDPolish |
| Portuguese | msoLanguageIDPortuguese |
| Punjabi | msoLanguageIDPunjabi |
| Quechua as spoken in Bolivia | msoLanguageIDQuechuaBolivia |
| Quechua as spoken in Ecuador | msoLanguageIDQuechuaEcuador |
| Quechua as spoken in Peru | msoLanguageIDQuechuaPeru |
| Rhaeto-Romanic | msoLanguageIDRhaetoRomanic |
| Romanian | msoLanguageIDRomanian |
| Romanian as spoken in Moldova | msoLanguageIDRomanianMoldova |
| Russian | msoLanguageIDRussian |
| Russian as spoken in Moldova | msoLanguageIDRussianMoldova |
| Sami/Lappish | msoLanguageIDSamiLappish |
| Sanskrit | msoLanguageIDSanskrit |
| Sepedi | msoLanguageIDSepedi |
| Serbian/Cyrillic | msoLanguageIDSerbianCyrillic |
| Serbian/Latin | msoLanguageIDSerbianLatin |
| Sesotho | msoLanguageIDSesotho |
| Simplified Chinese | msoLanguageIDSimplifiedChinese |
| Sindhi | msoLanguageIDSindhi |
| Sindhi as spoken in Pakistan | msoLanguageIDSindhiPakistan |
| Sinhalese | msoLanguageIDSinhalese |
| Slovak | msoLanguageIDSlovak |
| Slovenian | msoLanguageIDSlovenian |
| Somali | msoLanguageIDSomali |
| Sorbian | msoLanguageIDSorbian |
| Spanish | msoLanguageIDSpanish |
| Spanish (Modern Sort) | msoLanguageIDSpanishModernSort |
| Spanish as spoken in Argentina | msoLanguageIDSpanishArgentina |
| Spanish as spoken in Bolivia | msoLanguageIDSpanishBolivia |
| Spanish as spoken in Chile | msoLanguageIDSpanishChile |
| Spanish as spoken in Colombia | msoLanguageIDSpanishColombia |
| Spanish as spoken in Costa Rica | msoLanguageIDSpanishCostaRica |
| Spanish as spoken in Ecuador | msoLanguageIDSpanishEcuador |
| Spanish as spoken in El Salvador | msoLanguageIDSpanishElSalvador |
| Spanish as spoken in Guatemala | msoLanguageIDSpanishGuatemala |
| Spanish as spoken in Honduras | msoLanguageIDSpanishHonduras |
| Spanish as spoken in Mexico | msoLanguageIDMexicanSpanish |
| Spanish as spoken in Nicaragua | msoLanguageIDSpanishNicaragua |
| Spanish as spoken in Panama | msoLanguageIDSpanishPanama |
| Spanish as spoken in Paraguay | msoLanguageIDSpanishParaguay |
| Spanish as spoken in Peru | msoLanguageIDSpanishPeru |
| Spanish as spoken in Puerto Rico | msoLanguageIDSpanishPuertoRico |
| Spanish as spoken in the Dominican Republic | msoLanguageIDSpanishDominicanRepublic |
| Spanish as spoken in Uruguay | msoLanguageIDSpanishUruguay |
| Spanish as spoken in Venezuela | msoLanguageIDSpanishVenezuela |
| Sutu | msoLanguageIDSutu |
| Swahili | msoLanguageIDSwahili |
| Swedish | msoLanguageIDSwedish |
| Swedish as spoken in Finland | msoLanguageIDSwedishFinland |
| Syriac | msoLanguageIDSyriac |
| Tajik | msoLanguageIDTajik |
| Tamazight | msoLanguageIDTamazight |
| Tamazight (Latin) | msoLanguageIDTamazightLatin |
| Tamil | msoLanguageIDTamil |
| Tatar | msoLanguageIDTatar |
| Telugu | msoLanguageIDTelugu |
| Thai | msoLanguageIDThai |
| The Bosnian Bosnia Herzegovina Cyrillic language | msoLanguageIDBosnianBosniaHerzegovinaCyrillic |
| The Bosnian Bosnia Herzegovina Latin language | msoLanguageIDBosnianBosniaHerzegovinaLatin |
| The French Congo DRC language | msoLanguageIDFrenchCongoDRC |
| The Serbian Bosnia Herzegovina Cyrillic language | msoLanguageIDSerbianBosniaHerzegovinaCyrillic |
| The Serbian Bosnia Herzegovina Latin language | msoLanguageIDSerbianBosniaHerzegovinaLatin |
| Tibetan | msoLanguageIDTibetan |
| Tigrigna as spoken in Eritrea | msoLanguageIDTigrignaEritrea |
| Tigrigna as spoken in Ethiopia | msoLanguageIDTigrignaEthiopic |
| Traditional Chinese | msoLanguageIDTraditionalChinese |
| Tsonga | msoLanguageIDTsonga |
| Tswana | msoLanguageIDTswana |
| Turkish | msoLanguageIDTurkish |
| Turkmen | msoLanguageIDTurkmen |
| Ukrainian | msoLanguageIDUkrainian |
| Urdu | msoLanguageIDUrdu |
| Uzbek (Cyrillic) | msoLanguageIDUzbekCyrillic |
| Uzbek (Latin) | msoLanguageIDUzbekLatin |
| Venda | msoLanguageIDVenda |
| Vietnamese | msoLanguageIDVietnamese |
| Welsh | msoLanguageIDWelsh |
| Xhosa | msoLanguageIDXhosa |
| Yi | msoLanguageIDYi |
| Yiddish | msoLanguageIDYiddish |
| Yoruba | msoLanguageIDYoruba |
| Zulu | msoLanguageIDZulu |
Image by wal_172619 from Pixabay