There are many annoyances and troubles in Excel. Most of them you can easily fix. For example: You can't scroll up and down. Or the formula bar is gone. Or you can't group and ungroup rows and columns. The problem: Often it's not very intuitive to find the right button or setting. Check our comprehensive FAQ!
Something missing in Excel?
The following questions are about missing items, menus or buttons in Excel. Most of them you can get back with either one of the two way:
Check the View ribbon in Excel. There are some simple settings about the Excel window.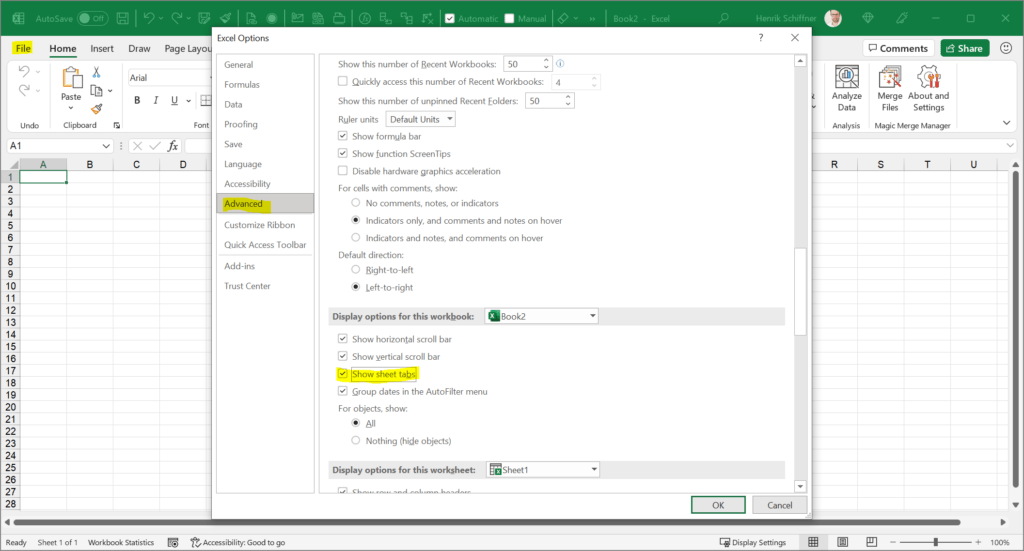 If you cannot find it in the View ribbon, go to the Excel Options:

Click on "File", then on Options.
Go to the Advanced Tab on the left.
Scroll down, for example to workbook settings.
Something still missing? Here are the most frequently things with detailed steps:
Headings Missing in Excel: How to Show Row Numbers & Column Letters!
Sheet Tabs in Excel Missing? How to Get Them Back!
Images, Charts, Objects Missing in Excel? How to Get Them Back!
Excel Opens Blank Window When Double-Clicking On File? Easy Solution!
Formula Bar Missing in Excel? How to Quickly Get It Back!
Scrollbars Missing in Excel? How to Get Them Back!
Something not working?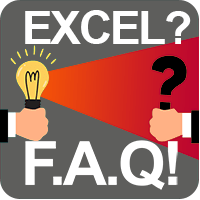 Within this section, you can find FAQ about things not working as they are supposed to work.
Buttons for inserting images or charts in Excel greyed out?
Can't select rows / columns to repeat when printing? Easy fix!
Can't Scroll in Excel? Here Are Reasons and Easy Fixes!
Can't Add Grouping in Excel? Buttons Greyed-Out? Easy Fix!
Column Headings: Column numbers instead of letters?
Formulas Not Calculating or Updating in Excel? Easy Fixes!
Other FAQ
How to Change Grouping Direction Above / Left of Data in Excel?
Which Excel Version? Easily Find Out Which Version You Use!
Buttons "Spacious" in Ribbon? How to Make Them Smaller!
Your question not listed in the FAQ above? Ask it here!
Error: Contact form not found.
Image by mohamed Hassan from Pixabay